This spring, we had the distinct pleasure of hosting an evening with Christina Clare. As our 10th artist at the Society for Domestic Museology, Christina conceived a multifaceted program that included an exhibition of drawings and an original tunic on a dress form that provided the backdrop for a performance that encompassed opera, jazz, original songs, and audience participation. I had some trepidation about hosting a concert in our small living room, but the truth is, Christina could perform almost anywhere and it would be magical. And that's exactly what it was.
According to Christina, the drawings were created primarily at night, after her family was asleep, as a type of meditative practice. Each drawing is a free-form tangle of a single line made without lifting the pen from the paper from beginning to end. Once each line drawing is complete, Christina colors in the shapes to create abstract compositions that have a Rorschach test quality about them. They are all works in progress, and they have the effect of making you want to try them, too. A dress form wearing one of her sartorial creations stood like a museum guard. To round out the installation, she installed a gold fringe curtain to suggest a tiny stage in the corner. In the end, though, there were really no boundaries between Christina and the audience.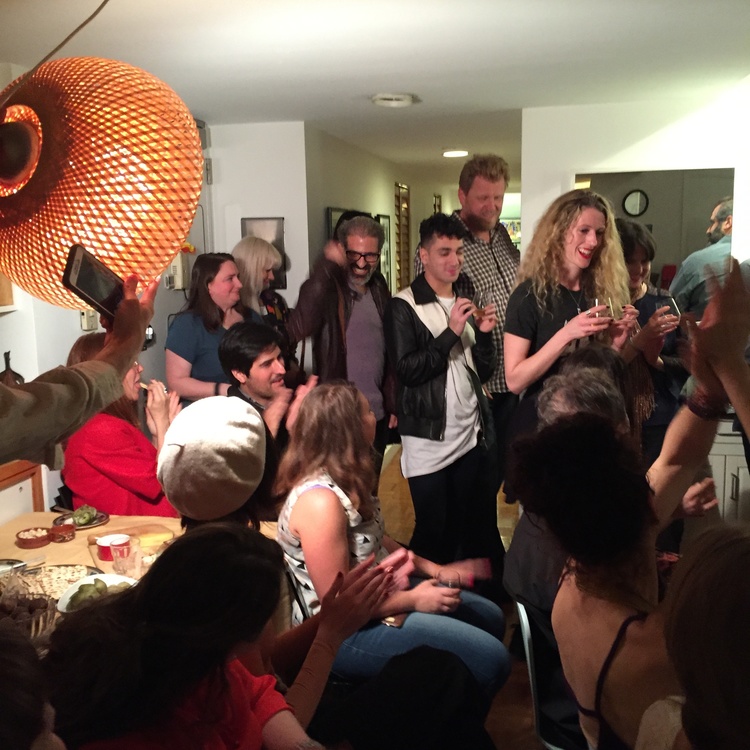 Down the hall, in another room, was a continuous showing of the feature film I Like You, made by Christina's collaborator and husband, Fritz Donnelly. Fritz plays himself while Christina plays all of the other roles — a testament to her versatility as a performer.
After some mingling and tapas-eating, we pushed our table back, brought in a couple of rows of chairs to transform our living room into a music venue. With about 30 guests, it was standing room only in our tiny, domestic jazz club.
After a brief introduction, Christina emerged from behind the golden curtain, dressed in a long floral dress for her first number, the Bach aria, Bist du bei mir. Foreshadowing the collaborative evening to follow, she asked for her first volunteer to accompany her on the cardboard organ. Artist and SfDM alum Andrew Zarou graciously donned the requisite wig, and the music began.
The piece was a lovely introduction into the evening and was followed by the jazz standard Cry Me A River, also accompanied by a bow-tie wearing, cardboard-guitar virtuoso, Jeff Elliott.
Christina followed with three of her own compositions, accompanying herself on the keyboard. I love hearing Christina sing — her voice seems effortless, the same way she banters with the audience. Genuine and playful, the winding notes like the meandering lines of her drawings — lovely and inviting.
For many years, Christina and Fritz hosted regular interactive performance events, under the name HiChristina!, that were committed to dissolving the artificial boundaries between performer and audience and getting everyone to participate in something that would tap into the creativity of the group. This spirit is central to Christina as a performer and artist. Her method of entertaining is all about intimacy, drawing you in, which made the close quarters of our living room the perfect venue. And there always seems to be a communal element. You aren't just watching, you are part of the show. So after a quick, but necessary, costume change, the third act of the evening starred the audience.
Donning a blue feathered headdress and black velour bodysuit, Christina handed out a number of tiny silver spoons. Each spoon recipient was directed to find a few people they didn't know and form a group. The assignment we were given was based on a sound piece she made for Andrew Zarou's Force Multiplier project — a short composition using two mobile phone recorders layered upon one another, working as a kind of DIY four-track. After giving us all a quick tutorial on how to do it, each group retreated into whatever space that could be found in our apartment and got to work. After about fifteen minutes, we came back together, having suddenly found ourselves in bands, complete with names and hit singles.
By the end of the evening, we were all basking in the glow that is Christina Clare. Effortlessly transforming our living room into something else entirely: a cozy performance space where in the end, we were all part of the show.
To find out more about Christina, check out her website, HiChristina, and to hear the full recording of Christina's original song, Sleight of Hand, click on the link below.