A few weeks ago, we had our second opening of the Society of Domestic Museology, featuring the artist, Neil Tetkowski. Neil and his wife, Olga, are good friends and I have long admired his work, which often consists of installations on a grand scale, like Common Ground, a ceramic installation originally created for the United Nations. So I was pleased when he agreed to participate in the SfDM. When I contacted Neil to ask him about what he was going to install, he replied with a one-line email, "It's called Flip Phone". Interesting.
Since Neil works primarily (but not only) in ceramics, I was expecting a ceramic piece, but then I began to wonder. One of the elements of this gallery experiment is that of surprise. We don't have any requirements for the artists aside from asking them to install something we can live with on a daily basis, which means no filling our living room floor to ceiling with balloons, or replacing all the furniture with stuff you can't sit on, or any number of the cool non-domestic installations that one could imagine. But what could Flip Phone be?
I pondered the mystery until Neil showed up the night before the opening to install the piece, which turned out to be in two parts: a beautiful ceramic roundel with the relief of three mobile phones (circa 2008 - a flip phone, a blackberry) arranged in the center. The edges of the circle were broken, giving it a sense of motion and the glaze was a gradation of earth and metal. The second part of the installation was a simple glass vase placed below the ceramic disk. This would be the performative part of the evening.
As people arrived at the opening we asked them to leave their phone on and place it inside the vase for the duration of the evening. Not everyone was psyched about this, but everyone complied. Soon the vase was full up with phones, mostly iPhones, but with a Blackberry and flip phone thrown in for good measure. We mingled. We ate. No one checked their messages. After all had arrived and the vase was overflowing with phones, I asked Neil to say a few words about his piece and what he predicted came to pass. As we sat discussing the meaning of the work hanging in front of us, the phones started to ring and buzz, lighting up like characters in Wall-E. And we all sat around feeling slightly uncomfortable being separated from our devices. Point taken. The room held a representative sampling of people with varying relationships to their phone ranging from my friends who didn't even bring a phone (the land-liners, as I like to call them) to our friend whose phone was going so crazy he finally HAD to answer it (it was his wife, who was trying to find our apartment). A lively conversation about technology ensued. What is this relationship we have with our devices? And what does the piece on the wall have to say about it?
Most of us agreed that the roundel evoked some kind of post-apocalpytic ruin, like something you might find while excavating hundreds of years from now when New York is the future Pompeii. But what would it be taken to mean? Would the relief impressions appear like cave paintings once did? Would we look like a civilization that worshiped tiny, hand-held devices? It is a meditation on the theme of personal technology. Made of clay - grounded in earth, but evoking electronic signals. Plus, it looks beautiful in our living room.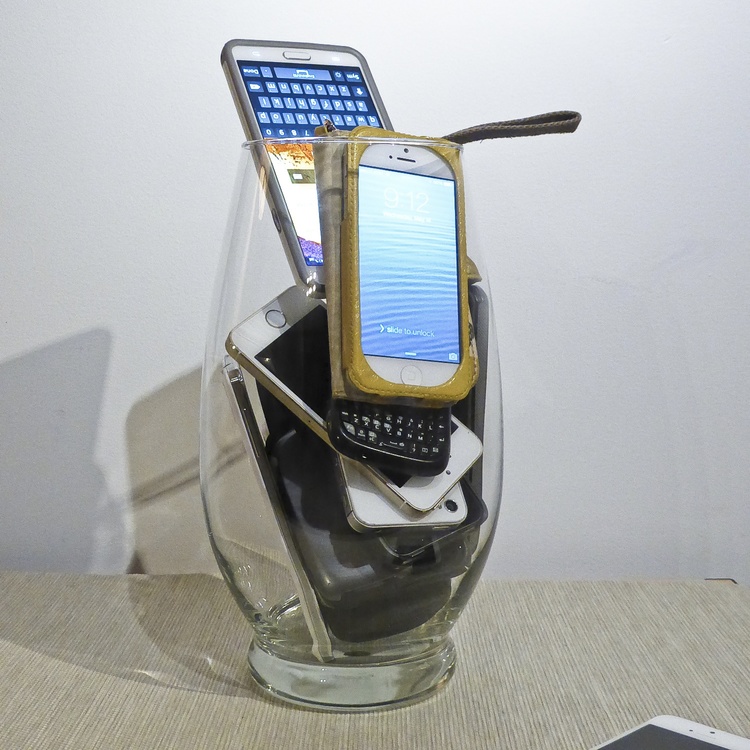 Walking in the door each day and seeing this piece, I can't help but reconsider my relationship to technology - being someone who compulsively checks her messages. Should I put my phone in the jar when I get home? I haven't done that yet. A few days after the opening, Joel ran the Brooklyn half marathon and our plan was to head out to Coney Island by train that morning to meet him. Not knowing what it would be like out there, we decided not to set up a meeting spot but to "text/call when we got there". That's what people do now, right? But when we arrived at the end of the race, among the thousands of runners and their friends, there was no signal to be had. We couldn't get in touch. We wandered around hoping to run into Joel, frustrated at the lack of connection, feeling stupid that we hadn't decided where to meet. Too confident in the phone that ultimately let us down. In the end, we had no choice but to get back on the train and head home, knowing that he would eventually end up there, too. When I walked in the door, I was greeted by this piece - that seemed to be mocking me. But I still didn't put my phone in the jar.